List price $99.99, 273 pages, over 270 illustrations and tables
ISBN 978-0-615-45941-7
Complete with the new RodDNA Designer Version 2.0 program
Includes one year of updates and support
To pre-order, please call, email or use the order form:
(209) 736-9197 Email: larry@HighSierraRods.com
To order, please call (209.736.9197) or download the Mail-in order form
Fill it out, save it and email it to larry@highsierrarods.com
Who Should Use This Book

Designing your own taper signature is a logical step for makers who want to differentiate their work from others, and for makers tired of building the same tapers everyone else builds.
Seasoned makers may also find this book and Designer software to be an indispensable tool to aid in taper design, modification and analysis.
Some highlights of the new RodDNA Designer program
Tapers can be designed/created using 11 different methods

Tapers can be modified manually; via a calculator; using built-in modifiers or using a powerful and extensible custom modifier facility

Repetitive taper modifications can be defined and linked together for ease of application

Designs can be compared to other designs

Designs can be analyzed against over 850 existing rod models using sophisticated correlation algorithms

When complete, designs can easily be converted into Models, and Models can also be converted into designs for easy modification

Estimated line weight of a new design can be calculated using 7 different methods, all configurable

Visual design aids consist of static and dynamic stress charts; taper dimension charts showing linear regression; taper delta charts showing linear regression and taper deflection charts

Each taper modification made can easily be viewed via the step backward and step forward functions. This allows the maker the freedom to make "what if" modifications without having to worry about manually undoing them

The current slope of a design and resulting rod weight are automatically calculated and displayed while designing tapers

The Designer will run on virtually any computer

Multiple designs can be worked on at any one time

Morgan Hand Mill taper settings reports are available for any of the listed tapers
Here are some sample screen captures from the new RodDNA Designer: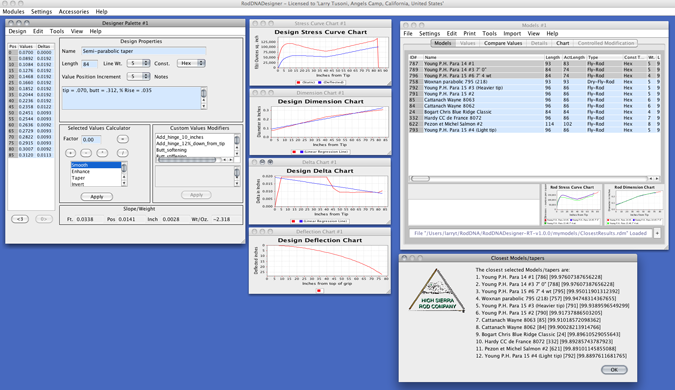 Here, a new semi-parabolic taper was designed and compared to the existing models,
with the top 12 results selected.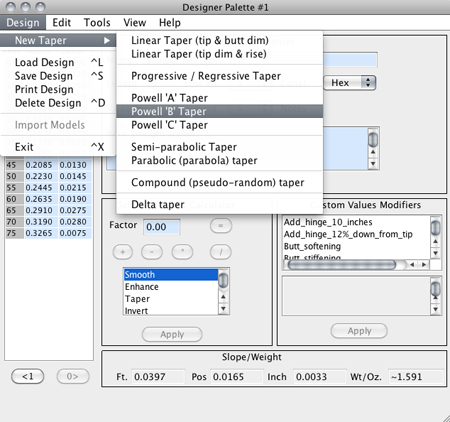 Eleven different taper creation methods are available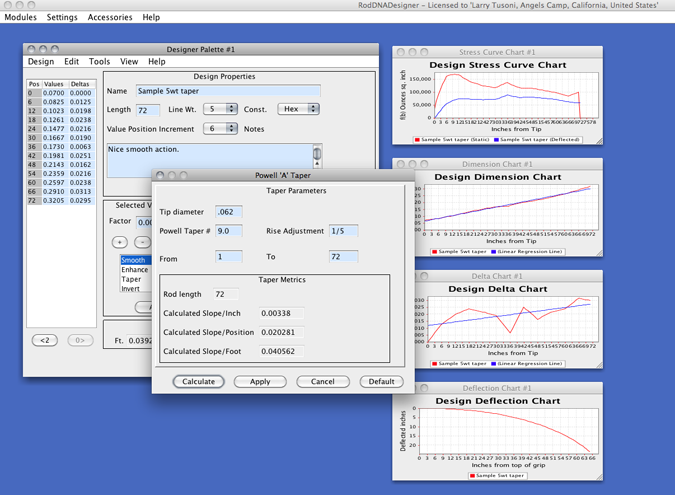 Example of an E. C. Powell "A" taper creation dialog indicating the slope of the taper
Note: Like all purchased software, once the program is opened it cannot be returned. However we will provide reasonable technical support when needed.
Specifications subject to change without notice.
Copyright © 1998-2022 High Sierra Rod Company. All Rights Reserved.